Mana Up Holiday Showcase
November 14, 2019 @ 4:30 pm

-

9:00 pm

HST
Join us for a fun evening at the Mana Up Holiday Showcase at T Galleria by DFS, featuring entrepreneurs who are taking Hawaiʻi global!
Join us for a fun evening at the Mana Up Holiday Showcase at T Galleria by DFS. Our Holiday Showcase will feature pitches from Mana Up's fourth cohort followed by a reception with tastings, drinks, and a local product marketplace featuring cohort 4 and Mana Up alumni companies.
Get your early holiday shopping in and share with your loved ones what truly make Hawai'i special!
Schedule:
4:30 pm – Doors open
5:10 – 6:00pm – Pitches from Mana Up Cohort 4 (see below)
6:00 – 8:00pm – Marketplace & Party — Shop local during our marketplace and party with booths featuring local products & the entrepreneurs behind them.
Ticket Includes:
Pitches
Cocktails & Pupus
Local entrepreneur marketplace & tastings from Mana Up cohort 4 + alumni
Guest Parking:
BOH WAIKIKI CENTER – 2155 Kalakaua Ave
$10 flat rate, 3PM to 8PM, Mon-Fri
HYATT CENTRIC GARAGE – 2255 Kuhio Ave, Parking entrance from Seaside Ave.
$4 / 30min
$10 flat rate – Enter between 5:30am-9am, must exit by 5pm.
$15 flat rate, 9hrs – Enter after 5pm, must exit by 6am.
WAIKIKI PARKING GARAGE – 333 Seaside Ave
$15 flat rate, 10hrs – must pay upon entering garage.
Height clearance 6'6"

FEATURING PITCHES BY:

Ambassadors With Aloha (Kekoa Cazimero): Ambassadors with Aloha provides quality local clothing designs that blend functionality with fashion. Clothes made to fit the Hawaiian Lifestyle and promote local designs.

Body Mint (Rona Yim): Body Mint products target and neutralize unwanted body odors in the form of an ingestible tablet, all while using the highest quality and freshest ingredients available.

Kahulaleʻa (Kehaulani Neilsen): Kahulaleʻa is far more than just an eye-catching clothing company–they're storytellers. Inspired by life in Hawai'i, Kahulaleʻa incorporates authentic Hawaiian designs that speak to life on the Hawaiian islands.

Maui Crisps (Blaine Apo): Maui Crisps captures the local flavors of the islands by crafting their beef crisps using thinly sliced and dried slices of the highest quality beef. This delicious island snack gives a great, new, and unique style to beef snacks.

Mohala Eyewear (Ashley Johnson): In the Hawaiian language, Mohala means to bloom, to blossom, to shine, and to be free. Mohala Eyewear promotes such values by creating fashionable eyewear that empowers and inspires confidence in women.

SLAB (Sheldon Simeon): Celebrity chef Sheldon Simeon's unique take on Hawaiʻi's Chili Pepper water is sure to be a great addition to any dish. Using only the best ingredients, once you add this to your food you'll never want it off.

Swiss Inn Dressing (Kenji Lee): Using a traditional family recipe passed down by their grandparents who immigrated from Switzerland, Swiss Inn hopes to share their tangy, creamy dressing with Hawaiʻi and the rest of the world.

Ulu Mana (Loren Shoop): Understanding the value and health benefits of Hawaiʻi's native breadfruit plant, 'Ulu, 'Ulu Mana dedicates itself to creating tasty 'Ulu-based food products while promoting sustainability, economic growth, and a healthy lifestyle in Hawaiʻi.

Wai Meli (David Keli'imaika'i Sebag): Wai Meli harvests Hawaiʻi-grown honey in an effort to promote sustainability in agriculture and to assist in the plight of the honeybee. The unique flowers and nectar the islands have to offer help to create special and delicious honey.

Wrappily (Sara Smith): Wrappily produces Hawaiʻi-inspired recycled gift wrapping materials that address the global need for smarter, more sustainable gift wrap.
MAHALO TO OUR PARTNERS!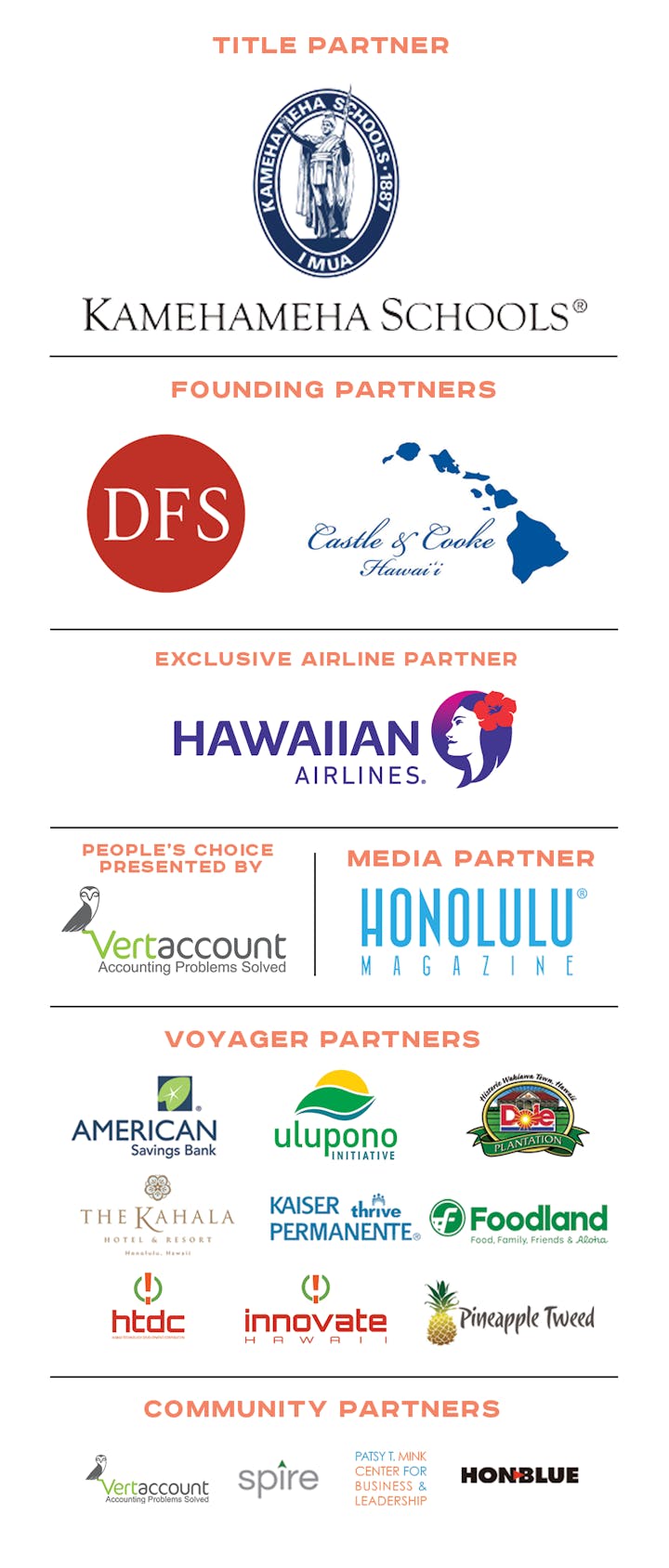 Share This Post, Choose Your Platform!