Moʻokūʻauhau & Moʻōlelo Hackathon
July 29, 2022 @ 3:00 pm

-

July 31, 2022 @ 12:00 pm

HST
A 3 day Hackathon & Summit focused on exploring Kanaka Maoli (Native Hawaiian) identity & Moʻokūʻauhau (Hawaiian Genealogy)
A non-traditional hackathon; expanding on traditional kanaka concepts including moʻokūʻauhau, our collective identity, and honoring our ancestors; using modern technologies; bringing a foundation of kanaka digital tooling to the world.
Come join us as we collectively explore our kanaka identity/heritage—with moʻokūʻauhau as our project's foundation—using modern technology & tooling. Pretty cool, yeah?
We are starting with an idea around coming together to build a genealogy tool. One that is rooted in kanaka concepts mai ka hiko (da' olden times) and through a present-day lens.
So you! Yeah, you! We need you! Both those with technical and cultural expertise. Kanaka—and technical allies interested in participating—should come with a good attitude, a learning mentality, and, most likely, extra extension cords.
Bump shoulders with others like you. As our Hawaiians in Tech community has realized, you should know we exist and are tʻriving.
Our weekend will include both a technical and a non-technical track. This includes Keynote talks from community leaders such as Dr. Lilikalā Kame'eleihiwa. Workshops focused on the mo'olelo of Haloa, Kū & Hina, and the opportunity to work in lo'i kalo.
We look forward to seeing you all over Lā Hoʻihoʻi Ea weekend and plan to finish our Demo Day Sunday morning for those interested in joining in the celebration that day.
Food & Drinks will be provided. Fri: Dinner, Sat: Breakfast, Lunch, Dinner, Sun: Breakfast.
Locations:
Friday hosted at Halau 'Inana: 2438 S Beretania St, Honolulu, HI 96826
Saturday hosted at Pu'uhonua O Waimanalo: 41-1300 Waikupanaha St, Waimanalo, HI 96795
Sunday Demo Day hosted at Native Books at Arts & Letters: 1164 Nuuanu Ave, Honolulu, HI 96817
More info can be found at our website: https://hawaiiansintech.org/hackathon
Looking for:
Technical Help 🛠
Looking for individuals who can help us:
Parse, store, or manage data
Shape data infrastructural / system design
Visualize hierarchical & interconnected data in a compelling way
A degree of technical acumen or a strong will to pick one up fast
Smart, open-minded folks with a good attitude
Common technical roles we're looking for (but not limited to):
Software engineers
Testing engineers
Data infrastructure / science / analysis
Privacy & safety
User-generated content & moderation
UX / Product / UI designers
Non Technical Help 💡
Looking for individuals who can help:
Engage in thoughtful discussions exploring our modern relationship to mo'oku'auhau and connect with like minded individuals
Co-develop a framework to digitize, organize, and share genealogy with the rest of their 'ohana
Test out and provide thoughtful feedback on existing functionalities
Provide thoughts and ideas on future development of the project
Give opinions on the best visualizations for the genealogy data
18+ and only technical remote option for this event
Schedule subject to change: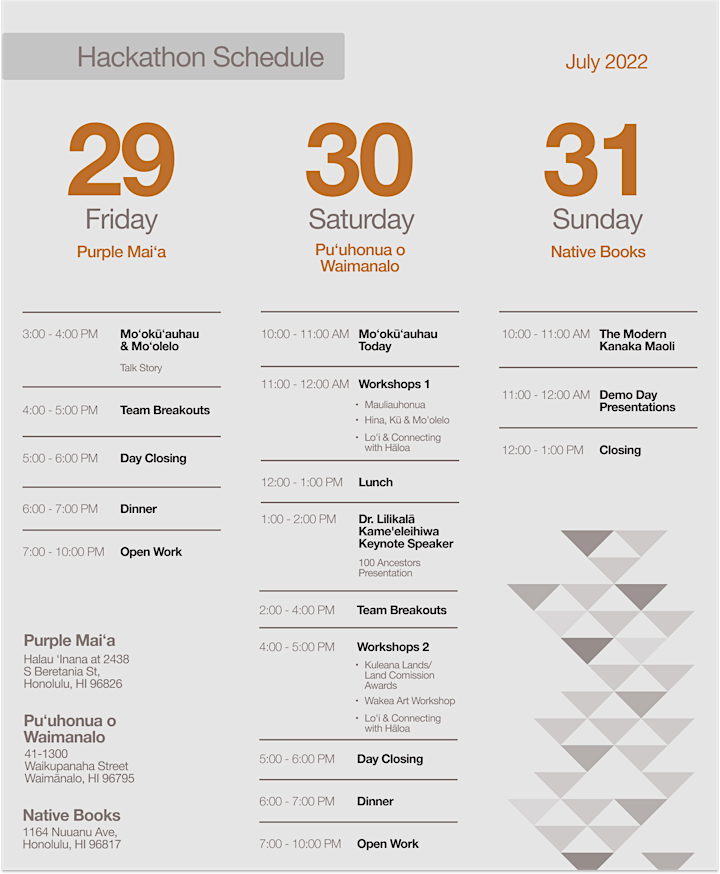 Share This Post, Choose Your Platform!