CANCELED – The Marvelous Marianas Trench Marine National Monument
April 16, 2020 @ 3:30 pm

-

4:30 pm

HST
The Deepest Trench on Earth ~ What's There and Why We Care
This talk will be rescheduled at a later date this year due to COVID-19 concerns.
Thank you.
————————
This month's Ocean Talk will feature the Marianas Trench Marine National Monument with Heidi Hirsh and Celeste Hanley of NOAA Fisheries Pacific Islands Regional Office.
Established in January 2009, the Marianas Trench Marine National Monument has some of the rarest and most exciting ecosystems on the planet. It is comprised of the submerged lands and waters of the three northernmost islands in the Mariana Archipelago, 21 submarine volcanoes, and the deepest point on Earth, the Mariana Trench.
Learning about the features and creatures in this amazing place will be complemented with a short film and two new educational posters that provide an in-depth view of the Monument, with links to 20 lesson plans for educators, students, and the general public.
Please register as space is limited. For more information, please contact the Waikiki Aquarium Volunteer Office at 808-440-9021.
Photos: Top – Hydromedusa at about 1,200 meters depth, NOAA Office of Ocean Exploration and Research. Bottom 1 – NW Eifuku volcano mussels and white galatheid crabs, NOAA Vents Program. 2 – NW Rota-1 A degassing event at Brimstone Pit, NOAA Vents Program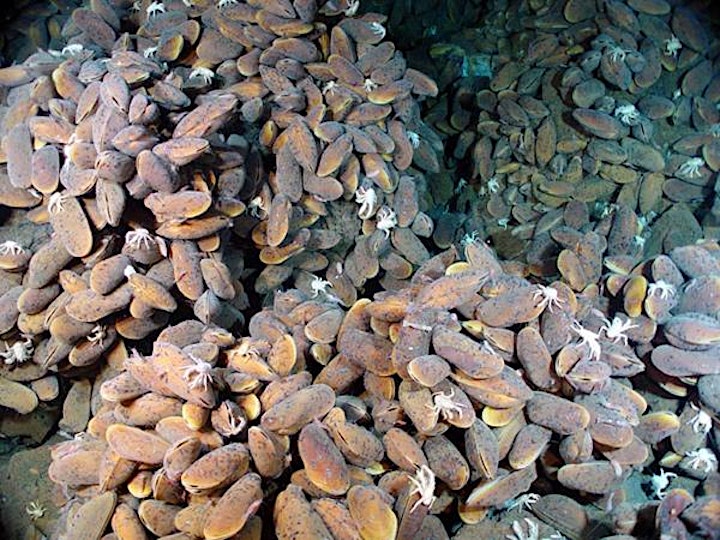 Share This Post, Choose Your Platform!